ACLU To File Civil Rights Lawsuit Against Milwaukee Over Stop-and-Frisk
by C.J. Ciaramella
Reason.com Full Feed / 2017-02-21 23:07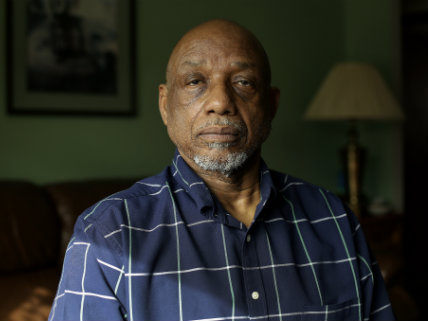 Charles Collins // Joshua Lott/ACLUOne spring evening in 2014, Charles Collins, a 67-year-old black Milwaukee resident, was driving back home with his wife. They had just dropped off their grandchild at their son's house after a day of babysitting.
"We were returning home, driving along, talking, just having a great interaction. You know, wife and husband, kicking it," Collins recalls. "Out of nowhere a policeman pulled up behind us with lights on."
When the Milwaukee police officer approached Collins and asked for his license, Collins handed it over and asked if there was any problem with his car of if he'd been speeding.
"We're not the ticket police," the officer replied, according to Collins.
The officer noticed Collin's concealed handgun license and asked him if he had any weapons in the car. When Collins said no, the officer went back to his cruiser, returned a short while later, handed Collins' license back, and let them go. The officer never said why he pulled Collins over.
The husband and wife drove away, stunned and confused. Although not too confused. The same thing had happened to Collins several times over the years, just as it had to his son and many of his friends, both young and old.
"As a brother or black man living in Milwaukee, it's not an unusual thing," Collin says. "When I leave my home, I leave with apprehension. Not that it's in your face, but it's there. I feel there's a good possibility that I'll get shot or pulled over. It's in me, you know what I'm saying? I can feel it."
Now Collins is one of the lead plaintiffs in a federal class-action lawsuit the American Civil Liberties Union is filing against the Milwaukee Police Department for operating what it says is an unconstitutional and racially discriminatory stop-and-frisk program.
The ACLU lawsuit, to be filed early Wednesday morning, alleges the Milwaukee Police Department subjects city residents like Collins to high-volume, suspicionless stops and searches as part of a quota system, violating their Fourth and Fourteenth Amendment rights…….